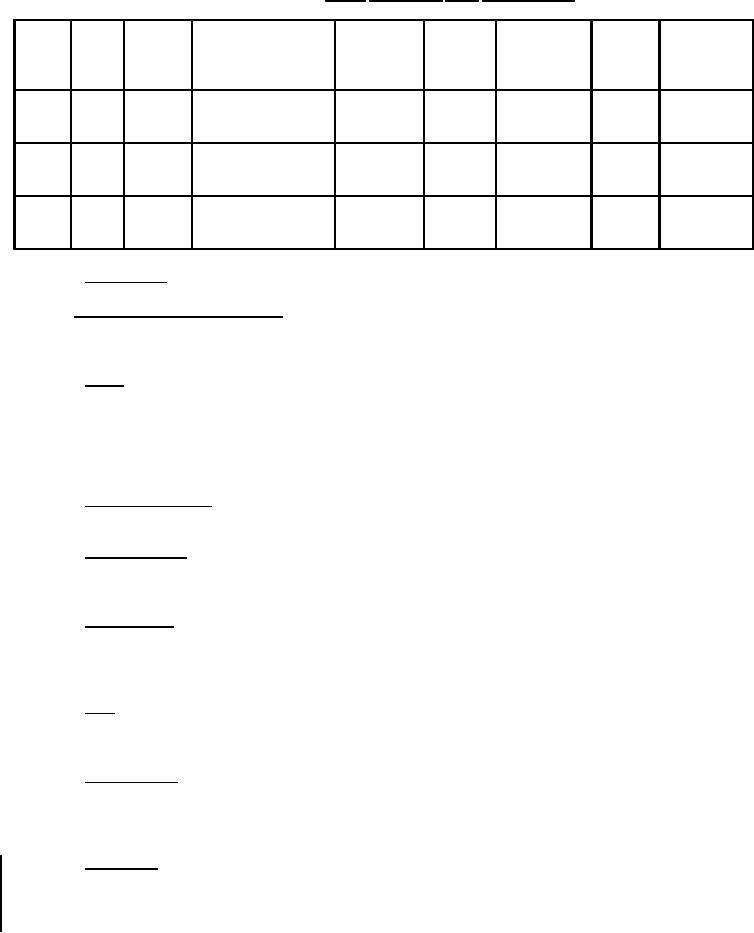 A-A-55618E
TABLE I. DASH NUMBERS AND DIMENSIONS.
DASH
ŘA
WHEEL WHEEL MATERIAL MIN. LOAD OVERAL MOUNTING SWIVEL MOUNTING
NO.
WIDTH
CAPACITY
L
BOLT
OFFSET
PLATE
(SEE 2.2.6)
(LBS)
HEIGHT DIAMETER
C
B
+_.25
SEE
8
8.00
2.50
POLYURETHANE
1800
10.50
.500
2.50
FIGURE
2
SEE
8H
8.00
2.50
POLYURETHANE
1800
11.00
.500
2.50
FIGURE
3
SEE
12
12.00
3.00
POLYURETHANE
3400
14.75
.500
2.75
FIGURE
4
2.1.1 Swivel caster. Swivel caster has a swivel horn and wheel assembly that will rotate freely through 360°.
2.2 Mounting plate and horn assembly. The mounting plate and horn assembly shall be made of steel plate, cast or
forged steel. Legs shall be formed and welded both inside and out for additional strength. Mounting plate and legs
shall have a minimum thickness of .375 inch.
2.2.1 Finish:
No code - Exposed metal surface of the caster assemblies shall be zinc plated per ASTM B633. Type II or
Type III, SC2.
Code G - Exposed metal surfaces of the caster assemblies shall be painted green. semi-gloss per MIL-PRF-
85285, Type II; color number 24052 per FED-STD-595.
2.2.2 Kingpinless raceway. Raceway shall be three (3) inches minimum diameter which measured from center of
ball hearing to center of ball bearing at 180° apart.
2.2.3 Swivel assembly. The kingpinless swivel assembly shall be ball bearing assembly type with a smooth non-
binding operation. The raceways shall be heat treated to a minimum hardness of 45 Rockwell C and shall be filled to
capacity with .500 inch minimum diameter commercial quality steel ball bearings.
2.2.4 Wheel bearing. Wheel bearing shall be precision tapered roller or precision ball journal bearings having a
bearing minimum life rating of 2500 hours at rated loads and rated speed and shall be manufactured in accordance
with high-grade manufacturing practice. Wheel bearing shall be sealed with neoprene lip seal to retain grease and
keep out dirt and contaminants.
2.2.5 Axle. The axle shall be .750 inch minimum diameter and shall be constructed of steel. The axle shall secure
the wheel by means of a locknut or slotted nut and pin. Axle shall be hollow with lubrication fitting countersunk on
the head to provide grease to wheel bearing. During operation, the axle shall not rotate loose or bind the wheel.
2.2.6 Wheel material. Wheel shall be solid metal core polyurethane material with shore A durometer hardness of 95
± 5 points, and with crown type thread. Thread thickness shall be one (1) inch. Wheel material shall be able to
withstand operating temperatures from -40 degrees F to 180 degrees F and ultraviolet light exposure without
chipping, peeling, tearing, or flaking.
2.2.7 Swivel lock. When specified, a four position lever operated plunger type swivel lock with a ring for operation
shall be furnished. When engaged, the ring shall be in the vertical position and the swivel lock shall prevent the
caster from swiveling while rolling or shall prevent rolling while at right angles to the normal path of the equipment.
When disengaged, the ring shall be in the horizontal position and the swivel lock shall permit full 360° free
swiveling.
2
For Parts Inquires call
Parts Hangar, Inc
(727) 493-0744
© Copyright 2015 Integrated Publishing, Inc.
A Service Disabled Veteran Owned Small Business