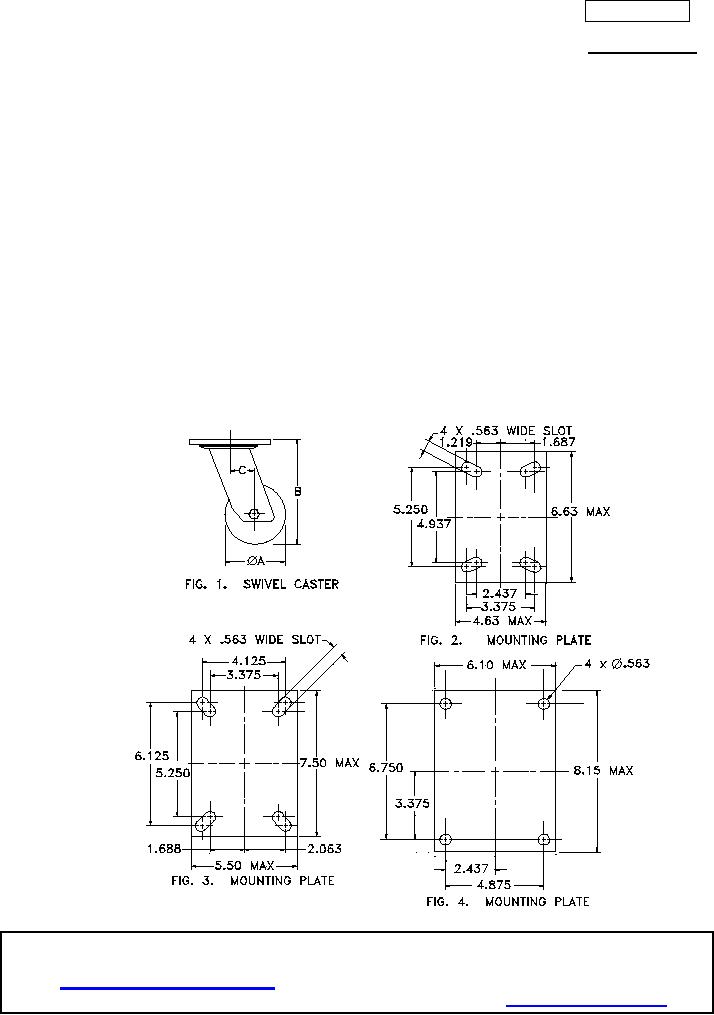 INCH-POUND
A-A-55618E
2 November 2009
SUPERSEDING
A-A-55618D
25 November 2003
COMMERCIAL ITEM DESCRIPTION
CASTER, SWIVEL, KINGPINLESS INDUSTRIAL, HEAVY DUTY WITH TOWING APPLICATION
This General Services Administration has authorized the use of thisCommercial Item Description
for all federal agencies.
1. SCOPE: This Commercial Item Description (CID) covers industrial heavy duty kingpinless swivel casters for
non-powered material transport and maintenance equipment with towing application for no more than five (5)
miles per hour (mph).
2. SALIENT CHARACTERISTICS:
2.1 Casters furnished under this CID shall be flat mounted plate type kingpinless ball bearing swivel design.
Fasteners used in the caster or brake assembly shall be of the locking type. Swivel casters shall conform to the
dimensions and load rating as specified in Table I and figures below.
Comments, suggestions, or questions on this document should be addressed to Defense Supply Center
Philadelphia (DSCP), ATTN: DSCP-NASA, 700 Robbins Avenue, Philadelphia, PA 19111-5096 or e-
mail to dscpg&inspecomments@dla.mil . Since contact information can change, you may want to verify
the currency of this address information using ASSIST Online database at http://assist.daps.dla.mil .
FSC 5340
For Parts Inquires call
Parts Hangar, Inc
(727) 493-0744
© Copyright 2015 Integrated Publishing, Inc.
A Service Disabled Veteran Owned Small Business