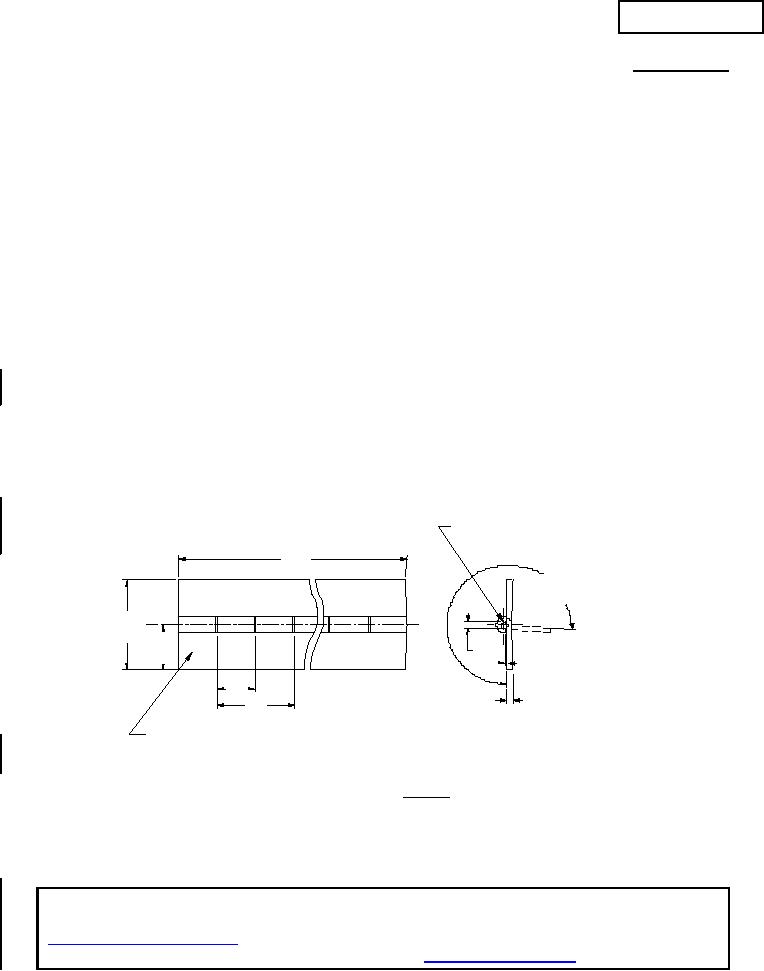 INCH-POUND
A-A-55594B
27 August 2010
SUPERSEDING
A-A-55594A
31 October 1997
COMMERCIAL ITEM DESCRIPTION
HINGE, BUTT, CONTINUOUS (PIANO)
.075 THICKNESS, .187 & .250 PIN DIA
The General Services Administration has authorized the use of this
Commercial Item Description for all Federal Agencies.
1. SCOPE. This Commercial Item Description (CID) covers commercial and industrial quality, continuous
butt piano hinges suitable for use on cases, chests, and any other adaptable surface.
2.
SALIENT CHARACTERISTICS.
2.1 Butt hinges and pin hinge furnished under this CID shall conform to the dimensions as specified in Table I
and Figure 1 below.
G ((SEENOTTE .6.)3)
 SEE NO E 6 3
L
275  MIN
A
F
B
OPENING
.040 MAX
D
.075 ±.005
P
IMPRESS PART IDENTIFICATION NUMBER AT A MAXIMUM OF 5 INCH INTERVALS
FIGURE 1. HINGE.
Comments, suggestions, or questions on this document should be addressed to Defense Supply Center
Philadelphia, ATTN: DSCP-NASA, 700 Robbins Avenue., Philadelphia, PA 19111-5096 or e-mail to
dscpg&ispecomments@dla.mil. Since contact information can change, you may want to verify the currency of
this address information using the ASSIST Online database at https://assist.daps.dla.mil.
ASMC N/A
FSC 5340
For Parts Inquires call
Parts Hangar, Inc
(727) 493-0744
© Copyright 2015 Integrated Publishing, Inc.
A Service Disabled Veteran Owned Small Business