A-A-2114
March 17, 1983
COMMERCIAL ITEM DESCRIPTION
CASTER, RIGID (INDUSTRIAL DUTY)
The General Services Administration has authorized the use of
this commercial item description in preference to type I, group B,
style 4A of Federal Specification FF-C-88.
This description covers industrial quality rigid casters suitable for intermittent operation on nonpowered material transport equipment.
Salient characteristics
Casters furnished under this commercial item description shall have flat mounting plates, shall be of the size and height specified, and shall conform to the dimensions and load rating defined by figure I and table I.
Size B – 3-1/2 inches diameter wheel
Size C – 4 inches diameter wheel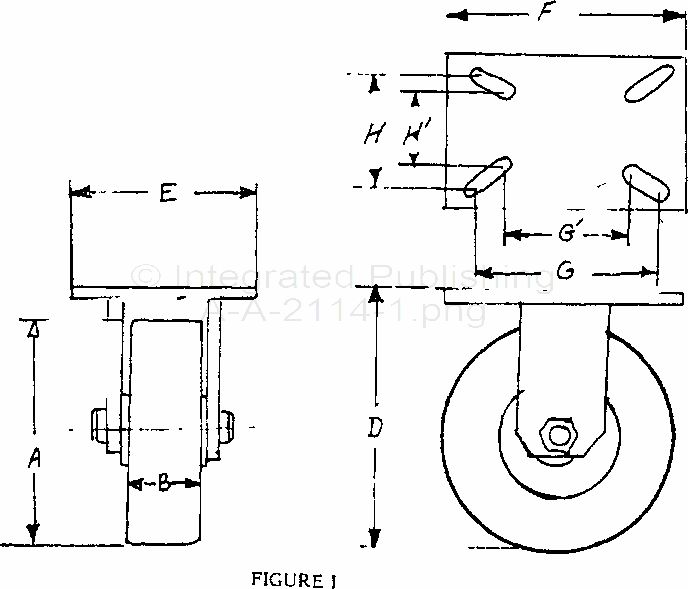 TABLE I
Size

Load

B (min)

D + 3/32

E + 1/8

F + 1/8

G + 1/32

H + 1/32

B

250

1-1/4

4-5/8

4-19/32

4-3/4

4-1

3-3/4

2-1/2

2-1/2

2-1/2

4-1/2

5

4-1/2

3-5/8

3-3-7/16*

4

2-7/8 to 3*

2-7/8

2-3/8 to 3*

1-3/16

1-3/4 to 2-3/8*

1-3/4

C

*Slotted

400

1-1/2

2

5-1/4

5-5/8

3-1/2

4

6-1/2

4-1/2

5

3 to 3-5/8*

1-3/4

2-5/8 to 3*


For Parts Inquires call Parts Hangar, Inc (727) 493-0744
© Copyright 2015 Integrated Publishing, Inc.
A Service Disabled Veteran Owned Small Business