A-A-1011
January 6, 1983
COMMERCIAL ITEM DESCRIPTION
CASTER, SWIVEL (CHAIR)
The General Services Administration has authorized the use of this
Commercial Item Description in preference to Federal Specification FF-C-82.
This description covers commercial quality swivel casters suitable for use on metal and wood office chairs.
Salient characteristics:
Types- The ball bearing swivel chair casters shall be of the following styles and sizes,  as specified.
Style A- plain stem
Style C- flat plate
Size A- 1-5/8 or 1-3/4 inch diameter wheel
Size B- 2 inch diameter wheel
Dimensions- See table I for the size and mounting dimensions of style A and C casters.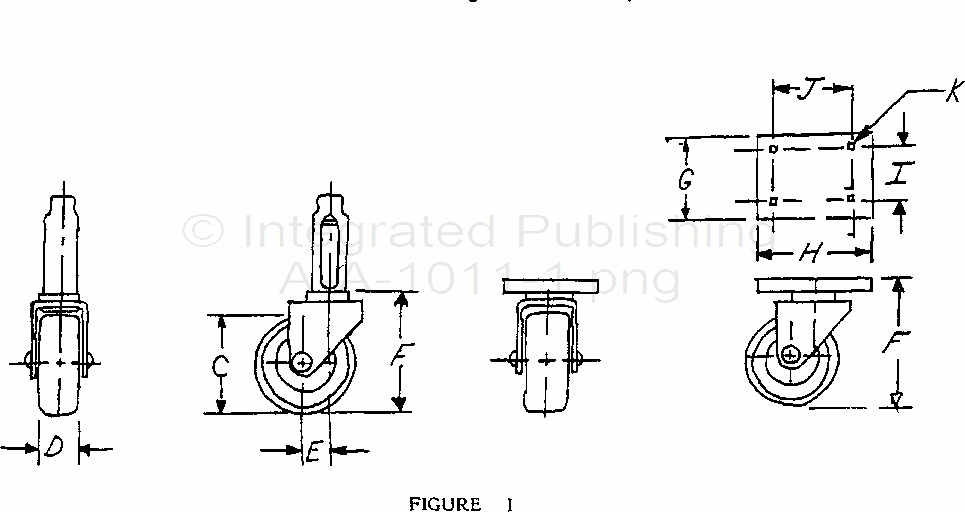 TABLE I
Size

(inches)

C(+1/16)

D (min)

E (min)

F (max)

G (max)

H (max)

I(+1/32)

J(+1/32)

K(+1/32)

A

1-5/8 or 1-3/4

23/32

3/4

2-5/8

1-3/16

1-9/16

13/16

1-9/16

13/64

B

2

23/32

1-3/16

3

1-3/16

2-3/8

13/16

1-9/16

13/64


For Parts Inquires call Parts Hangar, Inc (727) 493-0744
© Copyright 2015 Integrated Publishing, Inc.
A Service Disabled Veteran Owned Small Business